Shareholding Structure
As of December 31, 2020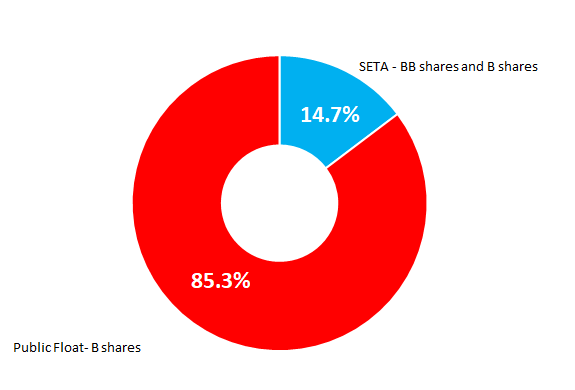 OMA has 390.1 million common shares outstanding; 87.2% are Series B shares, and 12.8% are Series BB shares.
OMA's Series B shares are listed on the Mexican Stock Exchange (BMV) and American Depositary Shares (ADSs) are listed on the NASDAQ Stock Market in the U.S.; each ADS represents 8 Series B shares.
OMA's strategic partner, SETA, Servicios de Tecnología Aeroportuaria, S.A. de C.V. (SETA), owns all of the Series BB shares, which are not traded and 1.9% of the Series B shares.
Each Series B and Series BB share gives the holder equal dividend rights and one vote in shareholders' meetings. The holders of Series BB shares also have veto rights over certain actions, including the payment of dividends and the nomination or removal of certain members of senior management.